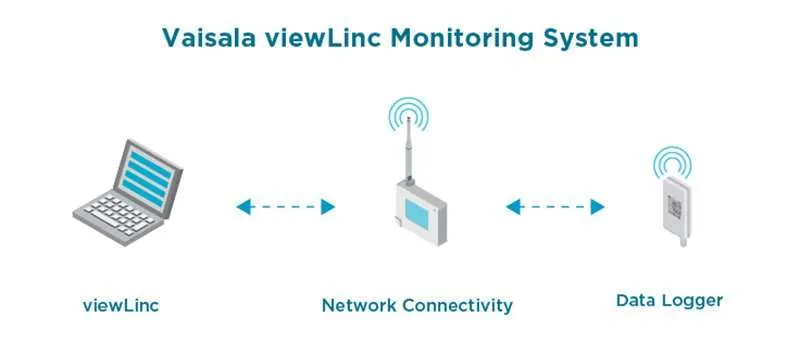 The RFL series data loggers use Vaisala's LoRa® based  VaiNet wireless technology to monitor the temperature in fridges, freezers, incubators, LN2 tanks, cold rooms, and very low-temperature freezers. Each RFL data logger can communicate over 100 m indoors. Connectivity is provided by the VaiNet Access Point (AP10). The RFL100 temperature data loggers use fixed or cabled probes, with up to two channels, and provide a measurement range of -196 to +90 °C. For temperature and humidity monitoring, see VaiNet Wireless Temp/RH Data Logger RFL100. The RFL100-series data loggers are used with viewLinc Enterprise Server software, version 5.X and later.
Key Benefits
Secure, Long-range Wireless
The RFL100 data loggers are wirelessly networked using VaiNet access points: AP10. Each AP10 supports up to 32 data loggers, saving on installation costs. Data are encrypted to ensure against eavesdropping, data tampering, and transfer errors. RFL100 data loggers connect to viewLinc easily without local configuration. All communications are encrypted and then verified by the system before being stored in a secure database that ensures data integrity and security.
Powerful Signal, Low Power Requirements
The RFL100 data loggers communicate over 100 m (328 ft) indoors without the aid of signal amplifiers or repeaters. Powered by two standard AA size 1.5 V batteries (LR6 alkaline or FR6 lithium), the RFL100 operates for 18 months at ~20 °C (68 °F) without an external power supply, eliminating the need for battery replacements between recommended calibrations.
Wide Temperature Range, Three Probe Options
Ideal for temperature-controlled chambers, cryogenic applications, incubators, LN2 tanks, blood/tissue banks, and other temperature chambers. Both RFL temperature probe options use a platinum RTD temperature sensor for superior measurement stability. Choose from the TMP115 probe (range from -196°C to +90°C), the HMP115 probes with plastic casing (range -40 to +60 °C), or the HMP110 probes with stainless steel casing (range -40°C to +80°C). The TMP115 probe has three cabled probe length options and the HMP110, designed for extreme conditions, uses a cabled probe. For calibration and probe length options, please refer to the Order Guide.