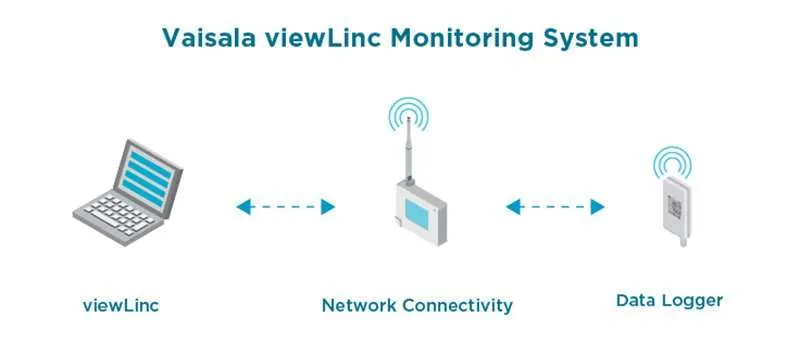 Vaisala DL1000-1400 is a high accuracy temperature data logger. Ideal for ultra-low temperature fridges, cold rooms,freezers in regulated environments, the DL1000-1400 temperature logger provides reliable yet stable measurements. With a measurement range from -90 °C to +70 °C and stable accuracy at ±0.10°C, the DL1000-1400 series can take up to four inputs for monitoring or mapping temperatures in that range. This DL-series also offers an optional input for door monitoring. The DL-series loggers connect to Vaisala's viewLinc software to provide real-time and historical data, remote alarming and reporting in compliance with global regulations and standards. The data loggers can also be integrated to non-Vaisala systems with our OPC UA server.
Key Benefits
Long-life battery and large onboard memory
With autonomous power and recording capacity, data is immune to network and power interruptions, ensuring that data are secure and available to provide continuous, gap-free records for compliance. DL-series batteries have a typical life-span of ten years.
Flexible connectivity and interoperability
The DL-series loggers connect to Vaisala's monitoring system viewLinc through multiple connectivity options: RS-232 serial, USB, Ethernet, Wi-Fi, and PoE. The Vaisala OPC server software allows compatible non-Vaisala systems to integrate Vaisala's DL-series temperature data loggers.
Stable, accurate measurements
Fully validatable and designed for regulated applications, the DL1000-1400 temperature data loggers are calibrated to ensure GxP-compliant measurement. Records are secure and formatted to help meet 21 CFR Part 11 and Annex 11 requirements. Measurements are traceable to SI units through national metrology institutes (NIST USA, MIKES Finland, or equivalent) or ISO/IEC 17025 accredited calibration laboratories.